The 2007 Connoisseur Collection Showcases Fenton Art Glass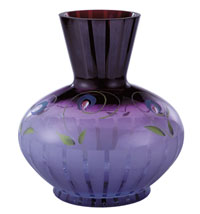 (Williamstown, WV). The 2007 Connoisseur Collection from Fenton Art Glass showcases the skills and talents of their glassworkers and artists. Included in this year's Collection is a dramatic "Deco Floral on Mulberry" Vase.
Fenton Designer Robin Spindler was inspired by illustrations from the era of art history known as "les Arts Decoratif." Characterized by sleek lines and geometric simplicity, Robin's design features a linear sandcarved motif and a simple curving floral. Fenton glassmakers have mastered the "fade" technique required to produce this distinctive Mulberry glass.
Item 4351 TE 7-1/2" Deco Floral on Mulberry Vase, inscribed with signatures of nine Fenton family members, limited to 1200 pieces, retails for $189 U.S.
Creating spectacular colored art glass for a century, Fenton Art Glass Company represents American handcrafted glass artistry. Located in Williamstown, WV, Fenton is known for its wide range of colors, handpainting and handcrafting. For four generations, Fenton family members have remained active in the business and are proud to continue an American glassmaking tradition begun in 1905. Call 800-933-6766 for more information or visit www.fentonartglass.com