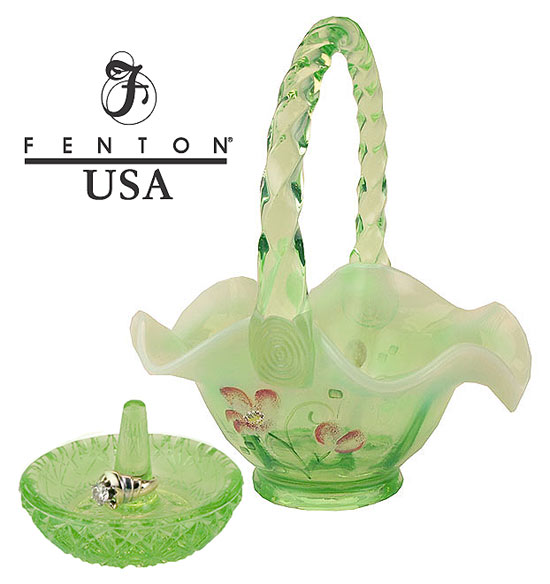 Fenton USA Presents. . .
New Key Lime Glass!

(Williamstown, WV, January 9, 2009).
As we enter our 103rd year of manufacturing glass, Fenton USA continues the traditions of craftsmanship and quality with new glass colors, handpainted decorations, exciting limited editions, and other special pieces for Spring 2009. Our new Key Lime color is refreshing and vibrant ... perfect for the coming Spring season! Included in this color grouping are six handpainted items with Dotted Dreams, a floral motif created by Fenton designer Michelle Kibbe. All of these Key Lime items are also available unadorned.

Item 2777 WT Dotted Dreams on Key Lime 8" Legacy Basket retails for $87.50 U.S.
Item 9144 H0 Key Lime 3'' Ringholder retails for $10.50 U.S.

Creating spectacular colored art glass for more than a century in their Williamstown, West Virginia location, Fenton Art Glass Company represents American handcrafted glass artistry. Fenton is known for its wide range of colors, handpainting and hand-crafting. For four generations, Fenton family members have remained active in the
business and are proud to continue an American glassmaking tradition begun in 1905. Call 800-933-6766 for more information or visit www.fentonartglass.com