Fenton USA Presents. . . Creamy Chocolate!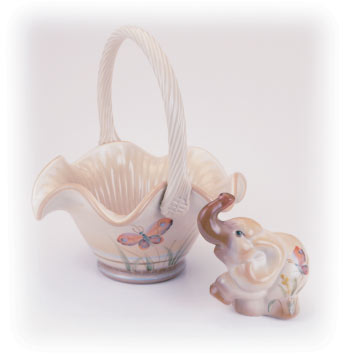 (Williamstown, WV, January 9, 2009). Dating back to 1907 at Fenton, Chocolate Glass is a collector favorite. The glass ranges in color from a deep mocha shade to a milky cocoa, and no two pieces are ever the same. It's so rich and so creamy, Chocolate glass looks good enough to eat.
Artfully handcrafted by the artisans of Fenton, each piece is carefully pressed into a vintage shape, reminiscent of long ago candy moulds. Fenton designer Kim Barley's Pond Butterfly on Chocolate motif features a vivid butterfly drifting easily over placid pond waters.

Item 5430 T2 Pond Butterfly on Chocolate 8" Basket retails
for $97.50 U.S.
Item 5136 T2 Pond Butterfly on Chocolate 3-1/2'' Parade Elephant Figurine
retails for $35.00 U.S.

Creating spectacular colored art glass for more than a century in their Williamstown, West Virginia location, Fenton Art Glass Company represents American handcrafted glass artistry. Fenton is known for its wide range of colors, handpainting and hand-crafting. For four generations, Fenton family members have remained active in the
business and are proud to continue an American glassmaking tradition begun in 1905. Call 800-933-6766 for more information or visit www.fentonartglass.com